Home Page
About Us
Our Dartmoor farmers
Recipes
Contact Us
Events and Markets
Links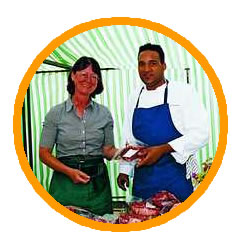 Wild Beef, suppliers to Michael Caine © Quay Studios






Contact:
Richard or Lizzie Vines
Address:
Hill Head Farm, Chagford, Devon TQ13 8DY
Tel/Fax:
01647 433433
Email:
richard@wildbeef.co.uk
Website:
www.wildbeef.co.uk
Delivery:
Southern England
Sold at:
Broadway Market in Hackney on Saturday
Borough Market at London Bridge on Friday and Saturday Taunton market on Thursday
Wells Market on Wednesday
Supply:
Home delivery or national mail order, by arrangement
Minimum Quantity:
none
Home delivery of beef. The beef is from native breeds of cattle, chiefly Welsh Blacks and South Devons. Reared and finished on the farm. The animals are only fed on pasture and the meat is hung for a minimum of three weeks. All cuts of meat are sold individually and labelled accordingly.